…or, more specifically, my book THE UBUNTU DESKTOP BEGINNER'S GUIDE is (or was, by the time you read this) #4 for the Operating Systems category on Apple's US iBookstore: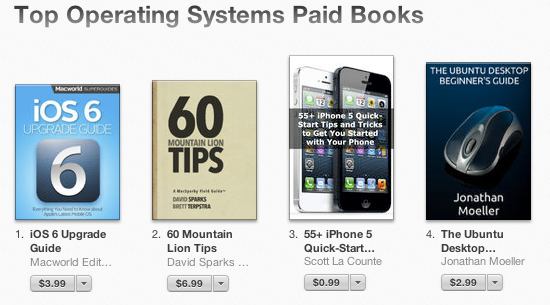 I am frankly baffled as to why this is the case -you can only read iBookstore books on the iBooks app on an iOS device like the iPad or the iPhone, and I didn't think that many iPad owners would be interested in Ubuntu Linux, which is why I didn't bother doing an iBooks version of the book until November. (Plainly, I was quite wrong about this.) On the other hand, THE UBUNTU DESKTOP BEGINNER'S GUIDE has a lot of color screenshots, and an iPad's screen would be the ideal device for reading it.
Though the reasons for it become much more comprehensible if you look at the search results for entering "ubuntu" into the iTunes store:
Both my Ubuntu books are among the top hits in the iBookstore for "Ubuntu", and in fact if you enter "ubuntu" into Amazon search, THE UBUNTU BEGINNER'S GUIDE is the top hit for all of Amazon for "ubuntu".
So my Ubuntu books are ideally positioned in terms of search placement, and I can only thank all of you for that – this only happened because so many of you purchased the book and left favorable reviews.
-JM